KOOL film reviews archive
REVIEW BY Ralph MacGregor
Enemy at the Gates (15)
Director: Jean-Jacques Annaud
Starring: Joseph Fiennes, Jude Law, Rachel Weisz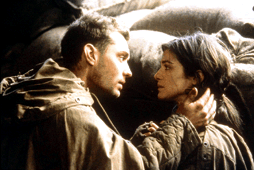 TENSE MOMENTS: Jude Law and Rachel Weisz in the thriller Enemy at the Gates.
THROUGHOUT history, the bleakest of times bring to light the greatest and worst of the human race.

Their stories have regularly been "adapted" for the silver screen, with Enemy at the Gates (15) the latest tale of heroism in a dark time.

Set in Stalingrad during the Nazi onslaught within Russia, a political officer called Danilov (Joseph Fiennes) witnesses a soldier's display of fine marksmanship and is himself saved from a Nazi soldier.

Keen to retell the story in its most poetic form, Danilov instigates a paper to bolster morale, creating the legend of Vassily Zaitsev (Jude Law).

Zaitsev's sniping skill becomes the talk of Russia, and a thorn in the side of the Third Reich. As his fame and kill count grows, the Germans decide Zaitsev has crossed the line between affordable pain and dangerous threat.

The Nazis dispatch Major Koenig, their own unparalleled marksman, with the mission of finding and eliminating Zaitsev. The story has obviously been enhanced for the pleasure of the viewing public, with a love interest played by Rachel Weisz and plenty of grand photography of Russia and its defiant stance to the invasion.

However, unlike many Second World War films, this movie does not set about casting the Germans as bad oppressors and the Russians as defiant Allies. The tale is a much more personal one of Zaitsev and Koenig's cat and mouse chase through the rubble of the city as one tries to predict the other's movements.

The script is well thought out and develops both snipers as honourable men with human weaknesses. They have both chosen the side they fight for and must now stick to it, despite personal fears.

The ambience of the film is very dark, with the grim reality of war coming across from the start. A war does have winners and losers but, generally, a battlefield has many more losers on both sides.

Gritty footage depicts this train of thought and will probably not suit those with a weak disposition. Overall, the movie is a classic tale of war romance and humanity, and with no real new twists it still manages to entertain.

Rating: